Jak se píše v reklamě na hru

Je to jako když otevřete šuplík starého zaprášeného stolu, kde objevíte neznámou, ještě nehranou hru od LucasArts
Už jako teenager jsem miloval 2d adventury typu point&click jako např. série Monkey Island, Indiana Jones, Loom, Beneath a steel sky, atp. Vůbec by mě nenapadlo, že v 21. století objevím neméně skvělou hru od programátorů (Gary Winnick a Ron Gilbert) z LucasArts. LucasArts měl v portfoliu hry, které mě bavily ze všeho nejvíce a to především zápletkou, vtipem, ale i intuitivním ovládáním. Věděli jste, že narozdíl od her Sierra Online a ostatních, nemůžete v hrách od LucasArts umřít? Podle mého i přestože hry umožňují uložit aktualní stav, nesmrtelnost dělá hru zábavnější.
Hra se jmenuje TimbleweedPark a vznikla pomocí crowdfundingu Kickstarter v období 2014-2017. Je stylizována do pixel art grafiky a rozlišení z 90. let, takže nečekejte super moderní design, ani rozlišení dnešních zařízení. Vůbec nechápu, jak mohla uniknout mé pozornosti až doposud. Hra je postavená na osvědčeném enginu Scumm (Script Creation Utility for Maniac Mansion), což je platforma vyvinutá Aricem Wilmunder a Ronem Gilbertem v čase, kdy pracovali pro LucasArts.


Ve hře Timbleweed Park máte za úkol vyšetřit nález mrtvoly na periférii města. Hra je jedinečná tím, že ovládáte až 5 postav, které mezi sebou mohou vyměňovat předměty (až na jednu, ale o tom později).
Je pravdou, že možnost hrát vícero postav byla poprvé použita již v roce 1987 ve hře Maniac Mansion, nicméně nebyla to obvyklá herní vlastnost.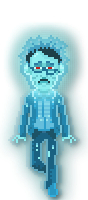 Každá postava má svůj charakter a hlavně jedinečné vlastnosti, např. klaun se nebojí výšek a tak se hodí na specifický úkol, který s jinou postavou prostě neuděláte. Proto se někdy hodí předat nalezený předmět jiné postavě, která jej použije lépe. Jak jsem již zmiňoval, předměty nelze vyměňovat s postavou ducha. Je to logické, duch pozemské předměty prostě nemá kam dát, také nemůže mluvit se živými, ale jen s mrtvými. Zato, ale může projít zavřenými dveřmi, strašit a jiné vylomeniny. Dříve než se vám nová postava přidá do vašeho portfólia, zahrajete si jen s ní krátkou minihru, kde se vám představí a dozvíte se více o její minulosti. Když ve hře budete tápat a již nebudete vědět jak dál, můžete zavolat HintTron3000! To je telefonní nápověda, kde můžete požádat o pomoc! Nikde nemusíte Googlit a hra vám nejdříve lehce naznačí kudy dál. Pokud nestačí, nápověda se konkretizuje více a více. Skvělý nápad, sám jsem ji několikrát využil a byl jsem za ni rád. Pokud nemáte zkušenosti z tímto typem her, nebo zkrátka nechcete tolik hádanek, hra na začátku nabízí dvě obtížnosti.
Thimbleweed Park je super hra, která nabízí 30 hodin čisté zábavy. Je k dostání pro Xbox One, PC, Mac, Android, Nintendo Switch, IOS, PS4 za cca 20 Euro. Na IOS jsem ji letos v létě kupoval za půlku. Hra bohužel není v češtině, ale jen v angličtině ke které si můžete zapnout anglické, německé, ruské, francouzské, italské anebo španělské titulky. Pakliže se rozhodnete si ji koupit, určitě nebudete litovat..
Pokud hra zaujala i vás a chcete se dozvědět více informací o jejím vzniku nebo jejich tvůrcích, navštivte odkazy níže: